Grand Kickoff: Spectacular Opening Ceremony Launches U15 Gymnasiade Brazil 2023
In a burst of excitement and cultural unity, the U15 Gymnasiade Brazil 2023 took flight at Rio de Janeiro's Olympic Park. With the Carioca Arena as its stage, the opening ceremony painted a vivid picture of Gymnasiade.
Before embarking on an entire week of competition, our young athletes all gathered on Sunday evening in an electrifying atmosphere at the Carioca Arena in Olympic Park in Rio de Janeiro to witness the opening ceremony of the U15 Gymnasiade Brazil 2023. With a packed arena, and following the mascot's lively performance that got the crowd dancing, dancers kicked off the ceremony with a sensational show.
The evening continued with the traditional parade of delegations, the singing of the Brazilian anthem by the choir, the ISF anthem, and words from Laurent Petrynka, ISF President, Antonio Hora Filho,  ISF Vice President and CBDE President (LOC), Rafael Picciani, State Secretary of Sport and Leisure of Rio de Janeiro, and Robson Lopes Aguiar, the Executive Director of the event, who officially declared the second edition of the U15 Gymnasiade 2023 open.
Among the crowd, some delegations stood out and are undoubtedly ready for the spirit competition! As excepted, Mexico, Chile, Puerto Rico, and the United States, with their large and exceptional participation, set the arena ablaze. But across from them, Switzerland, France, and Ukraine had nothing to envy and stirred up the audience too.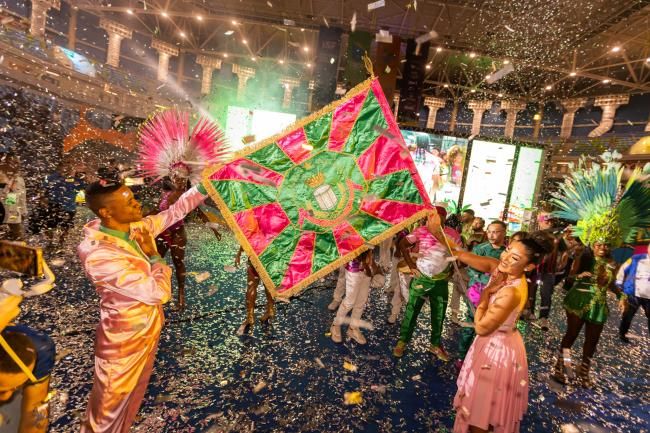 In a country where dance is an integral part of the culture, what could be more natural than concluding the ceremony with an incredible dance show blending samba, funk, hip-hop, ballroom dance, and forró. The audience, delegations, volunteers, and supporters ended the evening on the central field, dancing and sharing unforgettable moments.
It's official, the second edition of the 2023 Brazil U15 Gymnasiade is underway. Make way for competition, laughter, exchanges, friendships, sharing, fair play, and, of course, school sports!
Find the PDF version here