Countdown to the Second Edition of U15 Gymnasiades: Unveiling the Spectacle in Rio de Janeiro
In anticipation of the launch of the second edition of the U15 Gymnasiades in Rio de Janeiro, Brazil, President of the International School Sport Federation (ISF), Laurent Petrynka, along with Vice-President and Delegate Youssef Belqasmi, have united with their Brazilian counterparts: Mr. Hora Filho, ISF Vice President and President of the Local Organizing Committee (LOC), and Mr. Lopes Aguiar, the Executive Director of the event. Joining them were distinguished guests, including Rafael Picciani (State Secretary of Sport and Leisure of Rio de Janeiro), Mrs. Fernanda Fingeri (heading the VALE Foundation), and Fernando Careli (Director of Cooperative Affairs and Sustainability at Ferrero), sponsor of the event.
Amidst an atmosphere charged with enthusiasm, the speakers on stage expressed heartfelt gratitude to all stakeholders involved in orchestrating this monumental international affair. Set to captivate the Olympic Village, the UNIFA, and the Deodoro Arena from August 20th to 27th, 2023, the U15 Gymnasiades promises a week-long spectacle that will resonate far beyond the sporting arena.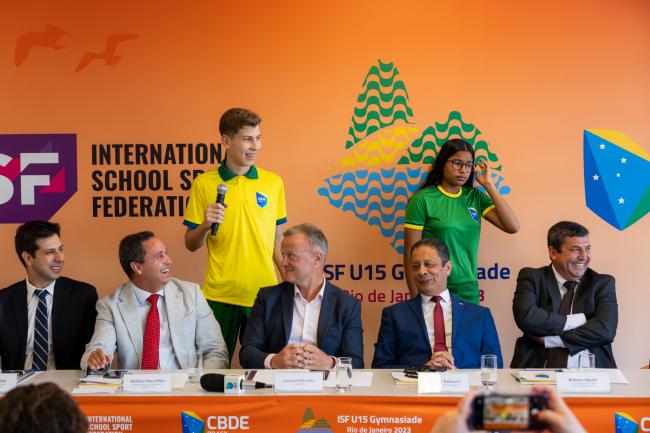 Under the watchful gaze of Bahrain, the organizing member of the next Gymnasiades in 2024, the Brazilian School Sports Confederation (CBDE) presented a preview of the event, standing as a testament to months of dedicated collaboration between ISF and the LOC.
Bringing the morning session to a close, Brazilian athletes were invited to share their motivations and contagious excitement to partake in this U15 Gymnasiades edition in the vibrant heart of Rio de Janeiro.
PDF version here