Join us for the 1st Ever ISF Winter Gymnasiade Erzurum 2023
The ISF is delighted to officially invite ISF Members to participate in the first ever ISF Winter Gymnasiade which will be organised in the city of Erzurum (Türkiye) from the 11th to 18th February 2023.
This occasion will be the first edition of the ISF Winter Gymnasiade marking a key moment in the history of ISF and for all participants and students who will take part.
Together with the LOC, ISF is committed to delivering the competition at the highest organisational level and are ready to deliver a great winter sport experience to all of you. The city of Erzurum is well known for organising winter sport events and we assure you that this event will be memorable for all participants.
Attached, you will find the event bulletin 0, which contains the first information related to the location of the event, venues, and facilities as well as administration, finances, and the sport programme of the event. More details about sport disciplines and delegation composition will be published in the bulletin 1 which will be published by the beginning of September 2022 at the latest.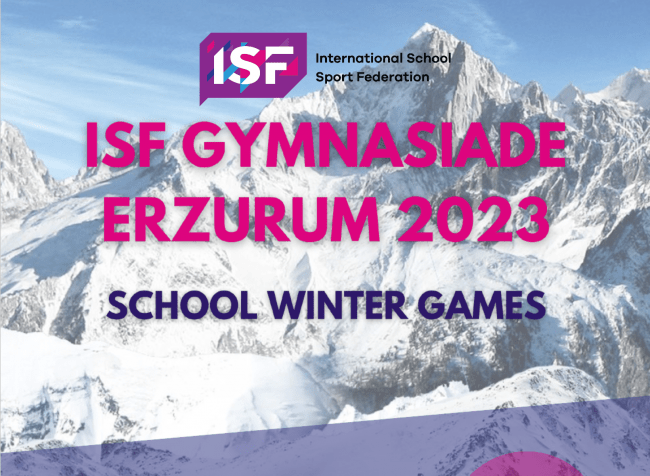 Regarding the registration process, we kindly invite you to proceed with registration through the ERAS platform, as is done for all ISF events. Registration for ISF members will only be possible through the ISF online registration system (ERAS https://isf-eras.org/). Do not hesitate to contact the sport department at sport@isfports.org for any issues regarding registration.
We would like to underline that the registration process will consist of three registration phases, with Phase 1 open from the 20th of June 2022.
We would also like to remind you that participation is ensured following the payment of the deposit (by the 30th September 2022).
Looking forward to seeing you in Erzurum, Türkiye in 2023.