ISF stands for Gender Equality at its best: Report of the High-Level Group on Gender Equality of the EU presented to the Commissioner Mariya Gabriel
The main goal and one of the strongest values ​​of the ISF is Gender Equality which is a fundamental European Union principle as well.  
As the mission of increasing the role and position in gender equality policy was taken seriously and proactively through numerous activities, seminars, and events, ISF took on the role of expert focusing on its establishment and development working with intergovernmental organizations, emphasizing the importance of having active, involved, and balanced participation of youth on its events.
Commissioner for Innovation, Research, Culture, Education and Youth Mariya Gabriel has shown great leadership and commitment to the High-level Group on Gender Equality of EU composed of former high-level athletes, politicians, members of different European and Sports Federations and Academics, working together to produce recommendations and address topics related to girl's and women's participation in sports, female coaches, women's representation in decision-making processes, media coverage as well as gender-based violence. 
The great teamwork has been done between two rapporteurs Nicolas Delorme and Köle Gjeloshaj, and other members including Claudia Bokel, Marisol Casado, Sanda Corak, Sarah Gregorius, Marijke Fleuren Van Walsem, Terhi Heinila, Sarah Keane, Dominique Monami, Christa Prets, Sarah Townsend, Tine Vertommen, Bogdan Wenta, and Emine Bozkurt being members of The High-level Group on Gender Equality of the EU appointed in 2020., among them, selected is the ISF representative who worked on a report presented to Commissioner Gabriel, on 15th of March, highlighting key issues and solutions for a gender-balanced mission, especially in sporting areas crucial to ISF itself.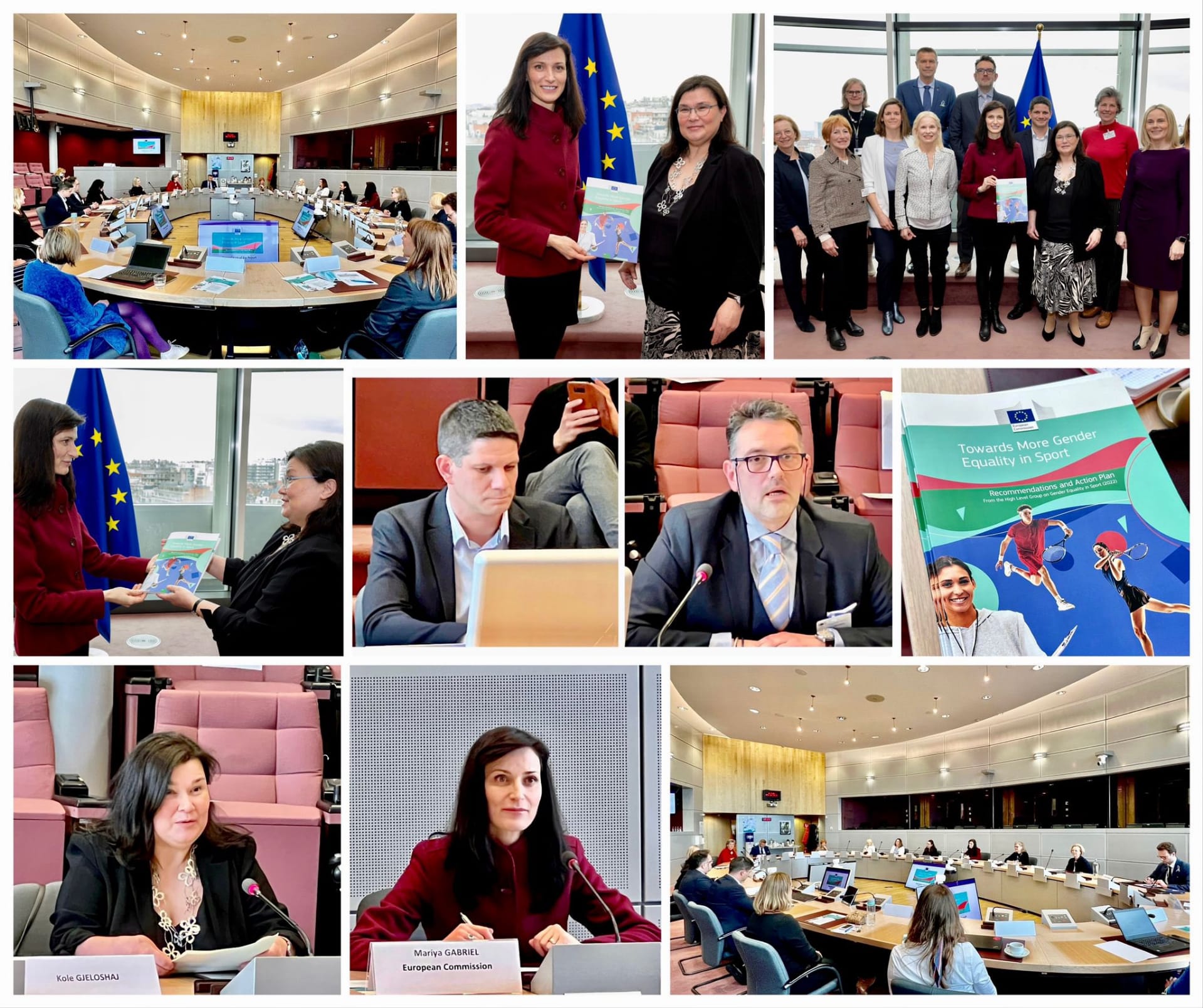 "As for most children, the sport begins with school sport, it is there fundamental for ISF, as it promotes education through sport, to ensure that gender equality is well integrated and understood in all sports activities from an early age." - Köle Gjeloshaj, ISF Deputy Secretary-General
RECCOMMENDATIONS GIVEN REGARDING SCHOOL SPORT AND GENDER EQUALITY:
Mainstream gender equality across all sport policies and strategies
 
Factor gender equality into all sport, youth, health and education policies, allocation of resources and decision making. Starting from schools, set up mechanisms to support the practice of sport by girls and women of all ages, especially among more vulnerable and less active groups. Provide, from grassroots to elite level, opportunities for women to participate in sport in order to ensure convergence of health, empowerment, inclusion and integration objectives and impacts. Promote work/study-family balance and sport practice.
ISF has focused on efforts on training to supplement physical activity from childhood, with a special effort made to develop opportunities in schools, where compulsory attendance allows information to circulate more easily, and structured extracurricular activities can be developed and linked with clubs run by qualified and experienced staff. In the next years, the objectives defined in the previous decade must be achieved and monitoring and support mechanisms must be put in place for all levels of sport. It must be a decade of implementation with grassroots actors and investment in education to change mentalities and practices, starting from the learning of sport in school or clubs.
It must also be one of increased access to positions of responsibility, moving from a symbolic presence to real leadership. Measures can only be effective by streamlining projects through evaluation by specialists and cooperation with the scientific community to establish broad data collection and analysis. This will allow for appropriate cross-cutting measures to be taken for the different forms of participation and target groups, with more knowledge of the most recent trends becoming available.
ISF stresses the importance of and allocate resources to ensuring quality physical education programmes in schools and extracurricular school sport activities for girls of all ages and in all their diversity to prevent dropout from physical education and school sports activities.
It is important to set up partnerships with the municipality, schools, youth organisations and other sectors in your region as well as Facilitate discussion with all stakeholders (e.g., private/public sector media, sport organisations, athletes, researchers, schools of journalism) in order to set objectives, analyse improvements, exchange good practices, define a common code of ethics on gender equality, etc.
It is recommended to establish a mentoring programme for girls/women interested in coaching and officiating at grass­roots level, including in schools and offer incentives for clubs to take part while providing safe facilities and equipment for all girls and women, especially at venues funded with public money (including schools).
"ISF is a key stakeholder in increasing gender equality in sport as its actions and events involve its participants from an early age." - Nicolas Delorme
The report is divided into two parts, the first being devoted to topics applicable to all the main themes while the second looks at the key thematic areas and is further divided into three parts: presentation of the current situation from a scientific standpoint and of models put in place by intergovernmental organisations; recommendations; and action proposals for stakeholders (EU Commission, EU member states, sports federations, and organisations).
This report takes account of the 'Gender equality in sport – Proposal for strategic actions 2014-2020' report and the EU Work Plan for Sport 2021-2024. The report has been designed to be a concise document reflecting the group members' objective of implementing and developing measures for the widespread use and long-term impact.
"We need a winning team to make the sport more equal for women and girls, for the wellbeing and safety of all EU citizens. Let us play together across the whole stadium, from policy to grassroots level, from the Commissioner to the volunteer on the field. School sport is an important element of achieving gender equality. Education of our future leaders, women, and men, should start at an early age. Only as a team can we win and make our Union live up to its value of gender equality. Join our team!" - Emine Bozkurt
Firmly believing that the school is a centre of children's physical, mental and social development, ISF will continue to raise awareness, actively promote, and support gender-balanced events for school athletes, providing them with a safe ground for competition and education.