Highly Anticipated School Sport Event Will Take Place in Belgrade: ISF World School Futsal Championship 2023 Confirmed!
ISF representatives signed the contract with the Serbian School Sport Federation and met with the Serbian Ministry of Education & Ministry of Sport in Belgrade
The International School Sport Federation (ISF) and the Serbian School Sport Federation are excited to announce the upcoming ISF World School Futsal Championship, set to take place in Belgrade this October from the 8th to the 17th.
On Wednesday, 25th of January in Belgrade, Serbia, ISF President Laurent Petrynka, accompanied by ISF Secretary General Hrvoje Custonja, signed the contract with Zeljko Tanaskovic, President of the Serbian School Sport Federation and ISF's Continental President – Europe and sealed the dates for the upcoming Futsal event.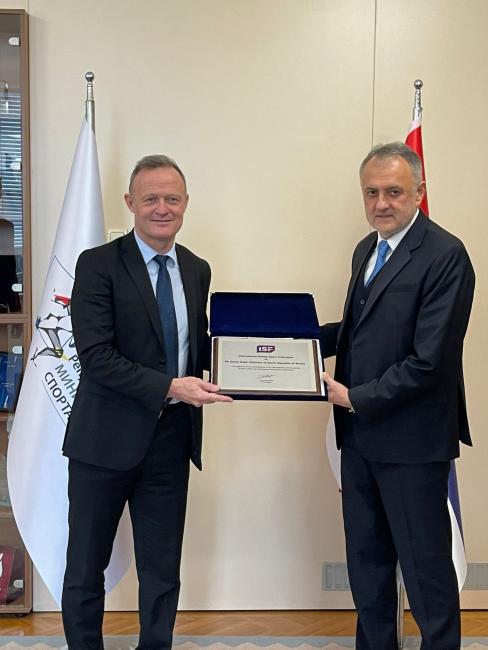 ISF representatives later met with the Serbian minister of Education Branko Ruzic and minister of Sport Zoran Gajic getting the full support for this event, ensuring that the tournament will be a success for all involved. The Ministry of Education, Science and Technological Development as well as Ministry of Sport will provide logistical support, while ISF and the Local organizing committee, that already assure the great level of organization and partnership by hosting already six big ISF events, will manage the organization and execution of the championship.
ISF has presented the ISF Academy concept to the Ministry of Education earning spotlights over its educational workshops and programmes that will be implemented over ISF events and open to al the participants in different roles (coaches, teachers, students, athletes…).
Photo: ISF President Laurent Petrynka & Serbian Minister of Sport Zoran Gajic
The ISF World School Futsal Championship is a highly-anticipated event that brings together school student-athletes from around the globe to compete in the fast-paced and exciting sport of futsal. The tournament will feature teams from various countries, all competing for the title of School sport world champion, both, boys and girls.
This year's championship promises to be an unforgettable experience for all participants, as well as for all the fans who will come to support their teams in Serbia. The ISF World School Futsal Championship is a unique opportunity for young athletes to showcase their skills on the international stage and build friendships with their peers from around the world. We look forward to welcoming all participating teams and fans to Belgrade for this exciting event of school sport, education, culture and a lot of fun!
For more information contact ISF Sports Department: sport@isfsports.org
See you in Belgrade!